Hospice Care Services in
Southbury, Connecticut
A time of tender care.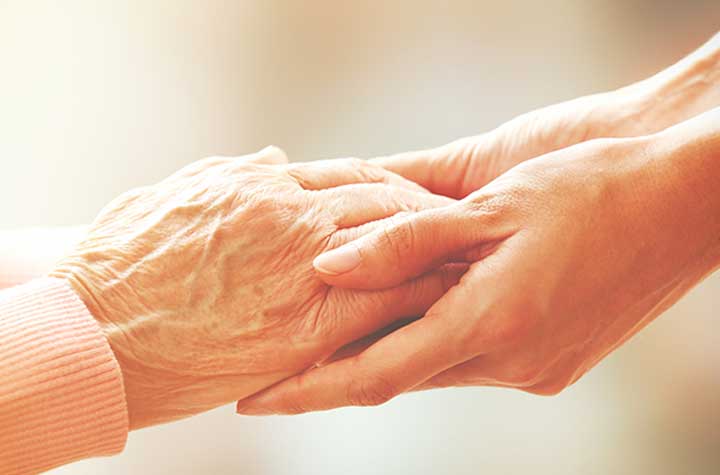 For people with life-limiting illnesses, the Health Center at Pomperaug Woods offers a warm embrace for seniors ready to shift from finding a cure to comfort. Our compassionate Health Center professionals offer expert care combined with beautiful surroundings and wonderful support for families. This includes symptom and pain management, palliative care and hospice care, with interdisciplinary hospice teams providing case management, social work and chaplain support.
The patient and family define directives and determine a requested plan of care. With our grace-filled team nearby, family and dear friends are relieved of caregiving and can focus on time together. Emotional, spiritual and practical support is given based on the patient's wishes and the family's needs.
Hospice care is provided in our Health Center and available, if ever needed, for residents of Pomperaug Woods and Southbury-area seniors.
Contact us by completing the form on this page to learn more about hospice care services in
Southbury, CT.

For immediate assistance, call 203-936-8985.
It's a philosophy of care that focuses on comfort and quality of life for those facing a life-limiting illness. It's a team-oriented approach to expert medical care, pain management, and emotional and spiritual support tailored to the person and family's needs and wishes. People who receive hospice care are no longer receiving curative treatment for their underlying disease.
Palliative care is specialized medical care that focuses on providing patients with relief from the symptoms, pain and stress of a serious illness – whatever the diagnosis or prognosis. It can accompany other curative treatments. The goal is to improve quality of life for both the patient and the family.
The Health Center offers a level of hospice care for patients who are in need of pain control and symptom management that can't be provided in another setting. Respite care is also available for caregivers who need a break.